Northwest Indiana's Original Lawn Service | Established in 1974
With roots deeply established in  Lake County, Porter County, and LaPorte County, Perma-Green has earned its remarkable lawn service credentials by helping people grow strong, healthy lawns.
Welcome to Perma-Green Lawn Services | On this page, you'll learn what Perma-Green does, which communities it has expertise in, and what services they offer.  You'll also learn Perma-Green's approach to lawn care services, including lawn aeration, fertilization, and control of weeds.
Finally, you'll meet our team; it's the secret to our success! Our team is carefully selected, trained, and considered as family. We think you'll enjoy meeting the team that helped make Perma-Green Northwest Indiana's favorite lawn care company.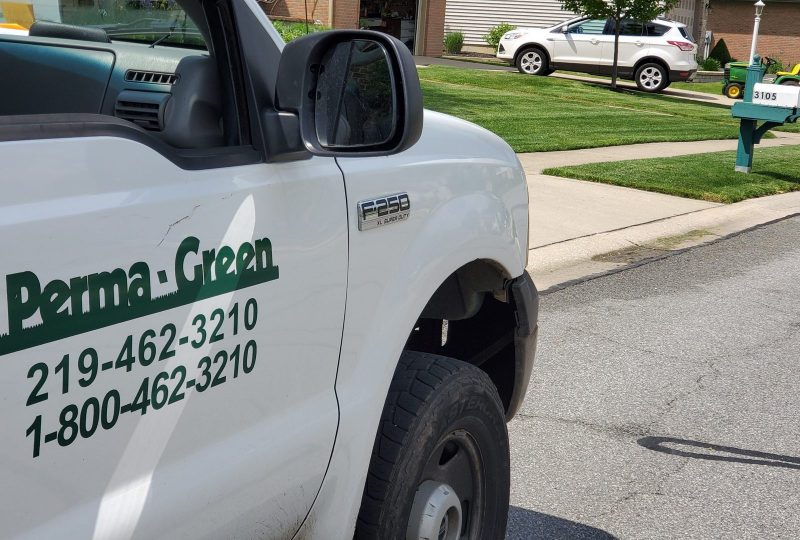 Lawn Service Your Way!
This page will provide you with links to the many useful pages and tools to help you decide which services are the best for your unique needs. Just check out our Weed & Feed page and its useful guide to picking the right program. We believe the best solutions should be tailored to fit your goals. This page will help you decide which program is best for you!
You'll also discover blogs that can help you achieve the best results and explain why. We have a community page for each area in Northwest Indiana that we serve. With helpful lawn tips, monthly specials, area soil types, and other useful information, you can be confident that Perma-Green is there for you when you want, where you want, and the way you want!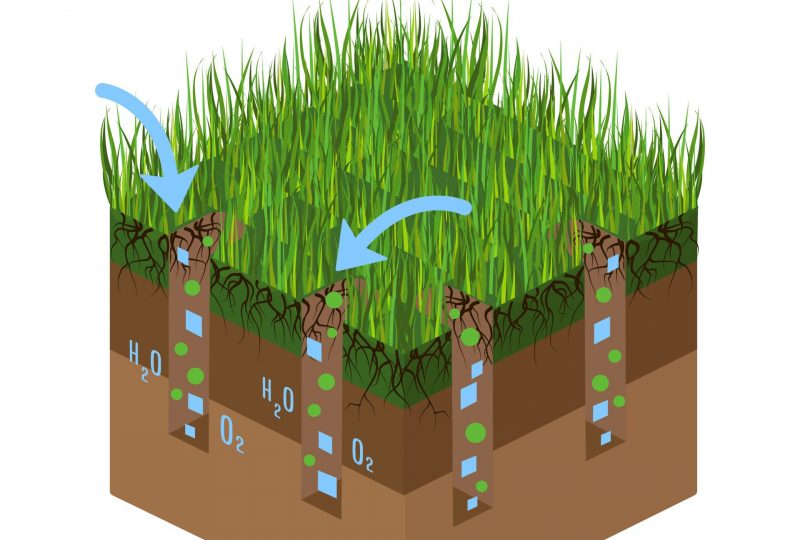 Yard Aeration
Most Northwest Indiana lawns benefit from core aeration. Perma-Green uses a proprietary commercial-grade aerator that rolls over your lawn, penetrating several inches into your yard to remove plugs of turf & soil. It then deposits them on the surface. The holes allow nutrients, water, air, fertilizer, and humus-channeling organic matter into the root systems. The holes give the soil room to loosen, permitting easier root growth and better air/water circulation in your yard.
Because it's labor-intensive, using professional-grade aeration equipment is optimal. This service is usually an add-on to lawn service contracts, ordinarily costing more than $30 per 1,000 square feet of lawn. Perma-Green includes this service in its 3-star and 2-star full-season plans at no additional cost! For more on aeration, check out our services page.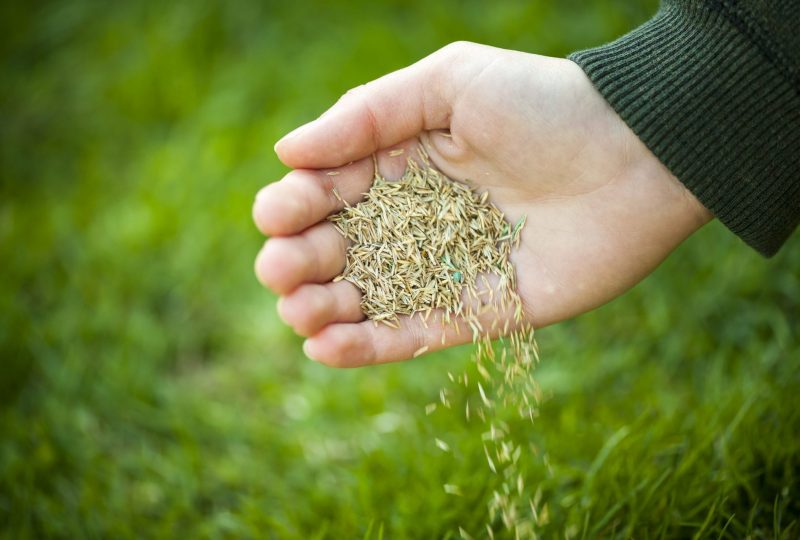 Lawn Seeding
Most Northern Indiana lawns benefit from lawn seeding (or "over-seeding") each year in late summer or early fall. Over-seeding can fill in thinned-out areas, fill-in areas where weeds were removed, and create a thicker healthier lawn that will discourage weeds & pests. Perma-Green's familiarity with our customer's soil composition ensures re-seeding uses only grasses optimized for the homeowner's soil, sun, and watering practices. Options include implementing a newer grass variety with improved disease & insect resistance into an established lawn or adding a better grass variety for select areas. For example, fine fescue can be planted in an area with dense shade, where Kentucky bluegrass doesn't grow as well.
Perma-Green offers re-seeding as part of the 3-Star full season lawn package in conjunction with aeration. Aeration is necessary to ensure seed-to-soil contact.
Fertilizing
Applying fertilizer gives your lawn vital nutrients to improve its health while supporting a thick, beautiful appearance. Each of Perma-Green's full-season programs includes six fertilizer applications with broadleaf weed control and
pre-emergent crabgrass control. Premier weed & feed packages also include post-emergent crabgrass control.
Due to harsh winters in Northwest Indiana and inconsistent springs, the most significant fertilizer applications are Fall Fertilizers and Winter Fertilizers. While providing the essential nutrients to survive the winter, Fall and Winter Fertilizers are the secret to next year's healthy lawn!
Perma-Green uses three basic types of fertilizer: fast-release synthetic, slow-release synthetic, and slow-release natural (organic). The specific fertilizer used by Perma-Green will vary based on the unique requirements of each individual yard. The following entries provide an overview of the 3 categories of fertilizers used:
Fast-release fertilizer will provide NWI lawns with a quick shot of nutrition, resulting in rapid leaf growth and greening. The burst of growth may divert energy from the formation of a strong root system. A lawn that gets fast-release fertilizer five or six times per year will look good when the weather is perfect, but its weak root system may cause it to dry up later on.
Slow-release synthetic fertilizers will give most lawns a more steady and gradual supply of nutrients, but their disadvantage is that they don't create immediate results and may not produce dividends for weeks until the weather is nice or they've been activated by nutrients in the soil. But the steady lower dose of nitrogen these fertilizers provide allows grass to build strong roots without sudden diversions of energy to leaf growth. This fertilization benefits from understanding homeowner goals, lawn history, and an understanding of soil composition. Perma-Green assigns a dedicated technician for each customer to ensure optimization of slow-release fertilizers.
Natural, Slow-Release Fertilizers. The third broad category of fertilizer type used by your PG Technician is a natural, slow-release fertilizer. These fertilizers consist of all types that are not synthesized. Examples include dried blood, fish emulsion, manure, and processed sewage. These fertilizers are sometimes referred to as "organic." PG's Steve Daly advises consumers to be cautious of lawn services that like to use the word organic in describing fertilizers to make sales. Daly suggests a more accurate term is "natural, non-synthetic" fertilizers. Similar to synthetic slow-release fertilizers, all-natural fertilizers require action by soil microbes before nutrients become available to your grass. Natural fertilizers tend to be expensive because they require up to four times as much of the quantity used by synthetic solutions.
Controlling Weeds
Competition. Since we started in Valparaiso 50 years ago, one thing hasn't changed; Perma-Green believes the best way to control weeds is to crowd them out with a healthy lawn that comes with a full-season lawn care package. A thick, healthy lawn will have minimal weeds because the unwanted plants can't compete. By executing a smart weed & feed program and helping our customers with best-practice watering, mowing, and reseeding, Perma-Green customers require fewer fertilizers each year! Fertilization practices are customized to the requirements of each unique lawn.
Pre-emergent herbicides. Included in all three of Perma-Greens full-year weed and feed plans, pre-emergent herbicide kills seed sprouts. It is the most common method for controlling crabgrass. After a lawn has been seeded, pre-emergent herbicides should not be used until the grass has grown to maturity. Failure to adhere to this application will result in stunted or dead grass. Since it is impossible to know where weeds will appear, a successful pre-emergent application requires experience and expertise in determining the best use. Knowing a lawn's history offers insights into best practices and supports the benefits of Perma-Green's philosophy of assigning a rep to each customer.
Post-emergent herbicides. While no pre-emergent herbicides are in wide use for broadleaf weeds such as dandelions and clover, PG will at times use post-emergent herbicides that kill weeds without harming your grass. Each lawn is treated based on its history of weed problems. Your Perma-Green technician carefully examines the lawn for visible weeds. In some cases, they will only treat the portions of the land where weeds are visible.
Pest Control
All lawns have some harmful pests and insects. Weather and other factors can create conditions that can infest and even destroy an established lawn. Conversely, similar to weeds, most pests prefer the sun. A full-season weed & feed program will support a healthy, strong lawn that discourages pests and insects.
But insecticides, including grub control and mosquito control, may kill beneficial organisms that prey on lawn pests. Insecticides may also harm earthworms, which are essential to a healthy lawn.
Each Perma-Green Technician is insured, trained, and certified with the OISC (Office of Indiana State Chemist). PG practices a targeted control approach.
Certified Lawn Service
Perma-Green's staff is certified with the OISC (Office of Indiana State Chemist) to work with fertilizers, pesticides, and seeds. Our workers ensure the safety of your family & pets, truth in labeling, and the protection of our environment. Customers like the Valparaiso Parks Department have counted on Perma-Green to keep families and pets safe!
Meet the Perma-Green Team