Crown Point Lawn Fertilizing
Perma-Green Lawn Service has been helping people in Crown point with lawn fertilization and lawn services since the  1970s. Why? Because Crown Point homeowners have unique soil challenges and rely on lawn care services that have proven results. The best solutions come with training and local market experience. Today, you'll learn why Perma-Green is the choice for Crown Point lawn services and watering advice.
With the soil, challenges come the sense of pride of having the greenest, healthiest lawn in the neighborhood. People in Crown Point take pride in having the best lawn. In Crown Point, a good lawn service referral is the gold standard.
Steve Daly's
Crown Point Lawn Watering Tips
If you have not already, it is time to bust out that hose or turn on your irrigation!
With temperatures in the high 90s, lawns will start to show heat stress and lose color if not watered properly. The secret to a great lawn is to water it correctly, feed your root system, and control weeds. 
-Water 1-2 inches every 5-7 days (early morning is best)
-Mow only when needed and on the highest setting
FOR FREE ESTIMATE PLEASE CALL US AT:
219-462-3210
OR REQUEST ONLINE TODAY
LAWN SOLUTIONS FROM
START TO FINISH
Contact an expert for your personalized yard maintence plan.
This is why Perma-Green has become so popular with businesses and homeowners in Crown Point and Lake County. As Crown Points neighborhoods expanded to Merrillville to the north, Winfield to the east, Cedar Lake to the southwest, St. John to the west, and unincorporated Schererville to the northwest, Perma-Green stayed with them.
Its been nearly 50 years, and Perma-Green is still the favorite lawn maintenance company for people in Lake County. Professional training, great service and proven experience in treating Crown Point dirt…It's why Perma-Green is the choice for Crown Point lawn services and lawn programs.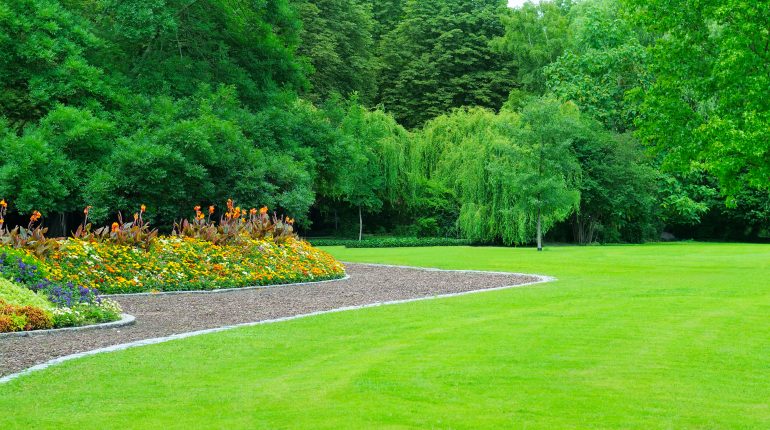 The best lawn fertilization service near Crown Point needs to know the history of soil
The key to being called Crown Point's best lawn fertilization service is this…
While Perma-Green might know the history and unique soils necessary to help you grow a green, plush lawn, Perma-Green Lawn Care is a company that has roots in Northwest Indiana going back to the 1880s.
As a history buff of Northwest Indiana, Steve Daly knows more than just the soil, he knows the cultural past too. Daly shares a timeline to the earliest days of Crown Point settlement.
When you are in the lawn care program business, you think in terms of timelines. Timelines and Lawn Care Programs go hand-in-hand. Any great lawn fertilization program requires it!
1834 October 31 – Crown Point was settled and founded by Solon Robinson. It was called, Robinson's Prairie, named after Solon Robinson
1834 Fancher family settled on the shores of Fancher Lake.
1835 The first school was established by Mrs. Harriet Holton.
1836 The Crown Point Post Office opened. The first in Lake County.
1836 Solon Robinson named Postmaster by President Andrew Jackson.
1837 Lake County was organized without choosing a county seat.
1837 Solon Robinson opened Crown Point's first general store with brother Milo Robinson.
1837 Solon Robinson elected clerk of Lake County.
1837 First courthouse was built with money provided by Solon Robinson.
1837 The first newspaper in the region, called Great Western
1838 The General Assembly of Indiana enacted the temporary location of the county government and court house at Lake Court House…It was built on the southwest corner of the square.
1880's The Daly family settles in Northwest Indiana from Ireland.
1974 Perma-Green is established as Northwest Indiana's Lawn Care Company.
2021 Perma-Green continues long history in Crown Point.
Lawn Fertilization requirements in Crown Point are different then in St. John, and Merrillville
Knowing the soil composition and unique climate of each community around Crown Point has helped Perma-Green understand that the right fertilization program is just a start. It also takes the right services with the right equipment and products.
It also requires knowing when to water. While Perma-Green offers personalized watering and lawnmower coaching to each full-season customer, this guide Crown Point Rain Forecast and Watering Guide can be bookmarked for quick reference. Helping people achieve a healthy lawn is part of the Perma-Green culture.
While Perma-Green might be Northwest Indiana's oldest Lawn Care Company, owner Steve Daly's family has been in Northwest Indiana since the 1880s. That's some pretty deep roots!
Perma-Green Links for Crown Point Lawn Care