The right lawn treatment depends on these different factors.
Today, Mr. Green himself, Steve Daly shares  Perma-Green's secrets to a healthy lawn. You'll learn the factors he uses to determine the right lawn treatment and his professional criteria for determining how often to fertilize.
Daly's factors for determining the right plan and frequency for Northwest Indiana's best lawn care plan!
The current condition of the lawn

The soil beneath the lawn. How deep is it? What is the composition?

The grass species within the lawn.  Some lawns have a blend. Is it sod or seed?

Sunlight and shade

Weather trends

The microclimate

The lawn's wear and tear.  Does the homeowner have pets and children?

Mowing schedule and height.  Lawns typically cut low require more weed treatment than lawns cut at the highest settings.

The area beyond the yard – Could weed seeds blow in from the neighbors or nearby fields? Is it visited by wildlife?
While these factors must be considered in determining the best full-season lawn plan for your yard, the best recommendation for your fertilizer plan needs to come with experience. Many national lawn care companies hire salespeople from other areas to handle sales in areas that they are not familiar with. While it's possible to train people to understand the factors for determining the right lawn care program, there are too many variables that need to be considered when your goal is to have a healthy, green lawn.
Northwest Indiana has one of the most diverse soil compositions anywhere. It is one of the only places on earth that has tropical foliage growing next to plants that are indigenous to the arctic.  The soil composition is a mosaic of different soil types that were transported here over thousands of years by either Ice Age glaciers or waterways.
To make matters worse, a third of northern Lake County and huge chunks of Porter and LaPorte Counties have thin or sandy soils. These areas were once sand dunes and even part of Lake Michigan. Everyone has their own opinion. Daly recommends you look for someone that has years of proven experience, so a good lawn care company should also help coach you during droughts and when it rains more than usual. Knowing how often to water your lawn or how to adjust your lawnmower height comes with real-world experience.
Spring lawn treatments- secrets revealed
As the snow melts and the soil warms up, your grass will start showing signs of life.   As the spring rain fuels upgrowth, the grass plants use their stored nutrients and become depleted.
Daly recommends slow-release fertilizers with crabgrass preemergent that replenish the nutrients without being washed away by spring showers. The correct spring plan will vary from year to year.  The factors mentioned above will also play a significant role in the best application.
You'll also want to make sure your lawn care company uses the right equipment. Daly likes using PermaGreen Supreme's Triumph (unaffiliated) spreader for residential lawns. It reduces wear and tears to the homeowner's lawn. Conversely, manual spreaders, and tank sprayers can cause the technician to spend an unnecessary amount of time applying the fertilizer and weed control treatment. This probably means you're paying too much!
Weeds will also be popping up and competing with your lawn for nutrients. Professional grade herbicides work when they are drawn into the leaves and roots of the plants. Spring is one of the best times to control weeds because the plants are growing faster which means the herbicide will be absorbed quickly and do its job!
Early summer lawn treatments
Early summer is when your lawn is growing fastest. Proper mowing is critical to encourage the growth of side shoots (rhizomes). Side shoots give your lawn that gorgeous texture and help your lawn handle the punishment of the hot, dry summer sun. Your yard is for summer fun, so the right treatment can allow you the benefits of regular use and still be the pride of the neighborhood.
Of course, everything is tough in Northwest Indiana, including the weeds. You'll always find a few tenacious weeds that require a second dose of herbicide before they learn your yard is a "no-weed zone". Timing is everything. You don't want weeds to recover and make a comeback.
A professional lawn care company will work closely with you and come out as often as needed.  5-9 weeks after the first weed control treatment is typical in Northwest Indiana. Every area is different in the region, which is one more reason to look for a local expert with experience growing grass in Lake County, Jasper County, LaPorte County, and Porter County.
At this time, your spring fertilizer and lawn treatment have been depleted and you're ready for the next step of your lawn fertilizer schedule.  Daly recommends you step up your amounts of soil nutrients. This is when your grass works the hardest. It's also when your yard can look noticeably different from your neighbors. This is when you notice who has professional lawn care and who doesn't.  It's showtime! 
Late summer lawn & fall treatment
In late summer, Perma-Green likes to boost the lawn with nutrients that include lots of root builders and micronutrients which gives the lawn a gorgeous green color.  It also helps restore lawn health and build strong roots. Daly believes this is especially significant when you have kids or a pet.
Slower growing grass also can make any weeds seem abundant at this time. This is why Perma-Green emphasizes they come out as needed…and this is when accountability pays!
Daly also believes early fall is the ideal time to assess your yard and consider any problems that might require adjustments and renovations. Early fall lawn treatment helps fuel plant growth and vigor. Daly believes its important to always look for ways to improve, no matter how green or healthy your yard is.
Late fall & winter lawn treatments- The most important feeding of the year!
Grass growth has slowed but not stopped. However, your lawn should still look good. After all, it's possibly the only healthy sign of life outside of your home.
According to Daly, "Below the ground, the roots know that the Cold Northwest Indiana winter is coming, and your yard is growing and storing nutrients in preparation for the brutal winter conditions."
This part of the month by month lawn care calendar is often overlooked. Daly believes it is imperative that lawn treatments are done in late fall in preparation for next year.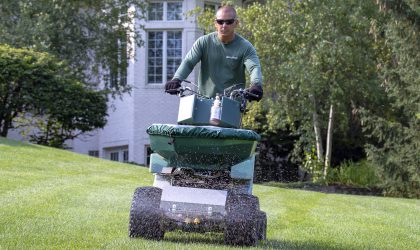 Secrets to lawn treatment and how often to fertilize | Lawn Care Plans 101
So there you have it. Secrets to lawn treatment and how often to fertilize. Start with analysis and put your lawn care program to work. If Steve Daly and his Perma-Green team can help, he welcomes your call, Cheers!
Jim Jano Janesheski