In today's Perma-Green Lawn Solutions article, you'll learn the secret to your best lawn ever in Northwest Indiana…
The secret? Just add water.
That's right… according to Valparaiso's Steve Daly, getting a remarkable lawn should cost less than buying Scott's Program, and all you need to do is add water. Huhh?
But the guy canvassing your neighborhood from TruGreen said your lawn is an embarrassment!
OK… every spring, your neighbor is canvassed by some guy from parts unknown stuffing doors with lawn care flyers. If you make the mistake of opening your door, you'll quickly hear his pitch….along with a barrage of insults to your yard. You'll quickly learn the only solution is to hire his corporate lawn care services… and he won't take no for an answer!
Today, Perma-Greens Steve Daly sets the record straight…the secret to your best lawn ever is you and your hose!
Well, Valpo's Steve Daly believes the secret to a great lawn can only happen with your help. Why? Because Steve Daly has a secret formula that seems to be working for people in Northwest Indiana since 1974.
The secret to the best lawn revealed!
Nothing beats a thick, healthy lawn during cook-outs and home gatherings. But according to Daly, having the best lawn in the neighborhood can't happen by itself, but it also can't happen by just spraying.
Daly believes the key to a plush, green lawn can't happen without a team….and the team's MVP is the homeowner.
Daly's company, Perma-Green, is Porter County's oldest lawn care company because they create satisfied customers. According to Daly, you can't create a remarkable lawn unless you water correctly, mow the lawn correctly, and apply the right fertilizers and weed control.
A great lawn is a team effort… and the MVP? The homeowner!
The best Home Lawn Care specialist will offer you lawn solutions with local expertise and a regular lawn care program. This includes using the right fertilizer, the correct amount of weed control, and aeration, but the secret to a green lawn also comes with a commitment from the homeowner.
Quite often, the advantage of a professional lawn care expert is using the right program and advising the homeowner when to water and how much.
No other factor is as important to have an amazing yard as knowing how often to water and knowing the right height to set your lawnmower when you mow your lawn. Of course, having the right lawn care program, weed control, and aeration is significant, but it's the expertise that comes with a  professional Lawn Care Service that will offer you "real value".
Think of your lawn care program as a football team. A great quarterback can't win without a team… an offensive line to block, a great defense to stop the opponent and a great coach to make sure everything is executed correctly.
The secret to a great lawn is having a professional lawn care expert that can provide you the necessary services and expertise when necessary.  They also can offer local expertise to tell you when and how often to water and mow.  This is based on the type of grass you have, your soil composition, the weather conditions, time of year, and your budget.
Regular Lawn Care Programs that usually cost less than buying a Scott's Program!
Watering and mowing correctly is the MVP of a great lawn…and your Home Lawn Care Professional is like having a great coach.
Local experts, such as Perma-Green, will provide the right lawn care program, weed control, and aeration while coaching you throughout the season.
Besides offering the necessary advice to assure success, the majority of the time, a lawn care service buys in bulk and can execute the "heavy lifting" for less than it costs to buy the chemicals at retail.
Walk the walk & talk the talk
Ironically, many lawn care employees that work for big commercial providers have less experience than the homeowners. Ask them where they worked a few months ago.
The lawn programs and advice is generic and comes without experience.  This can often lead to harmful treatments to your lawn, your community, and the local environment.
Fertilizing- The right regular lawn care program!
While Steve Daly believes the key to a great lawn is a joint effort, a great lawn is not possible without using the right lawn care program, weed control, and aeration.
Besides getting the right advice and coaching, having the correct lawn care program can be fundamental to the color and health of your grass.
Where art meets science
It's part science and part art…knowing the right lawn fertilization comes with experience and training.  Perma-Green believes every lawn requires a visit to determine the best strategy for the unique needs and budget of the homeowner. To assure this, Perma-Green starts every relationship with a FREE estimate. 
Depending on your lawn's grass type, soil quality, and your budget, the best solutions are strategized to fit your needs.
Beware of this!
When a lawn care service offers an estimate over the phone…  be very careful. Do yourself a favor and check the reviews of anyone that claims they have solutions without assessing your property.
Daly believes everyone offers "Free estimates" just to get the phone ringing, but often, every estimate comes with generic solutions.
What makes you unique?
Every lawn in Northwest Indiana has its own unique fertilization needs. What Perma-Green recommends in LaPorte is different than Chesterton. Hobart's soil composition is completely different than neighboring Crown Point and Munster.
Thankfully, determining proper lawn fertilization is easy with the help of a professional lawn fertilization company like Perma-Green. With nearly 50 years of experience serving Northwest Indiana, you can feel confident with a company like Perma-Green.
Perma-Green doesn't rely on experience alone. The seasoned staff undergoes ongoing training and certification. They also have the support of the industry's best equipment.
Home Lawn Care near me
The next time you search "lawn care near me" also search "lawn care reviews". You'll be glad you did!
Grassroots experience in Lake, Porter and LaPorte Counties
Northwest Indiana is a mosaic of soil types that were transported here over thousands of years by either Ice Age glaciers or waterways.
The soil composition in Valparaiso is significantly different from Crown Point, Hobart and LaPorte.
Much of the northern third of Lake County and parts of Porter County and LaPorte County have thin or sandy soils. Nothing beats experience when it comes to lawn care in Northwest Indiana.
If you don't know… you're like most of us!
Northwest Indiana is home to numerous grass types, including Kentucky Bluegrass, Ryegrass, and Fescue.
Quite often, a lawn has been overseeded with a variation. Some grasses are made for sunny conditions, while others favor shade.
A customized fertilization plan gives your lawn the right nutrients on the right schedule, ensuring lush, green growth.
Cost less than Scott's and DIY programs!
Perma-Green's Steve Daly includes with every free estimate analysis of your property and lawn, including grass type, square footage, and the soil composition.
Although the initial estimate and consultation are free to the homeowner-the time is invested to assure the estimate and strategy is accurate and fits within your budget.
Accuracy, efficiency, and economies of scale are why so many Perma-Green estimates come in for less cost than doing it yourself….and that even includes the application! Learn more.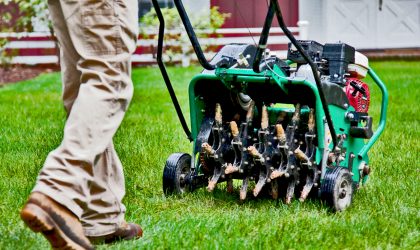 Fertilizers 
While some professional lawn care companies can offer lawn solutions for less money than doing it yourself, the "real value" comes from the end results of using enriched fertilizers.
Perma-Green's technician's use of forward-thinking nutrient-enriched materials can be a real game-changer. They are packed with vital nutrients like nitrogen, phosphorus, potassium, and micro-nutrients.
While many national chains lack expertise or accountability, some local lawn companies lack volume buying power and utilize over the counter lawn care systems and pest controls.
Your lawn matters to your assigned technician
Steve Daly recommends using slow-release fertilization. According to Daly, "Perma-Green uses select fertilizers specific to the homeowner's grass, soil and other considerations.
The slow-release nutrients selected will ensure your lawn is sustained for weeks after treatment. We assign our customers yards to a Perma-Green staff member to assure accountability.
Our team members will return as often as needed to assure a greener lawn and a happy homeowner."
Lawn Fertilization Equipment
While some companies have large professional equipment for industrial purposes, these spreaders and sprayers are too large and cumbersome to be used on residential lawns.
Furthermore, they can tear up a lawn and are loud and annoying to the homeowner.
Conversely, traditional push spreaders can take longer to get the job done right. This inefficiency translates to additional expense to the homeowner.
The best lawns have the best technology
Today's best lawn care companies, such as Perma-Green, utilize proprietary equipment designed to maximize results- while reducing costs to the homeowner.
Steve Daly likes to use lawn equipment from a company called Permagreen. It's more than a coincidence that Perma-Green Lawn Care solutions use equipment from a company with a similar name.
Years ago, as an employee, Steve Daly bought Perma-Green after the company split and began manufacturing lawn equipment.
PermaGreen invented the industry's first stand-on spreader sprayer nearly 23 years ago to support lawn care solutions in Northwest Indiana.
Permagreen Supreme, Inc is Daly's secret weapon for offering greener lawns for less. The  American-made equipment is based out of Valparaiso, uses ground-metered technology to guarantee even fertilizer coverage.
The 36″ gate allows the Perma-green technicians the advantage of zipping around commercial and residential properties while also being able to spread and spray an Acre in 15 minutes!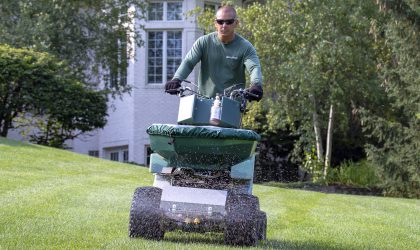 The secret to a Green Lawn
So there you have it… the secret to your best lawn ever. Just add water, and leave the rest to Perma-Green. You'll be the envy of the neighborhood.